Dropshipping
Created by You, Delivered by Us! Print on demand and dropship to your collectors anywhere in the world, effortlessly.
1
2
3
4
5
Your customer places an order from your online store
You place the order on our website & put their address as the delivery address
We print & package your order with any of your branding/special customer notes
We ship the order directly to your customer - there will never be an invoice included
The tracking information is emailed to you to pass along to your customer
Drop shipping (white label, blind shipping, etc) is available on every order you place, for no additional charge. This allows you to ship packages directly to your collectors, without any of our information present. The shipping label on the package will have your information as the sender, and your customer's information as the delivery address. There will never be any invoice or any Picture Salon branding included in the packages, they will appear as if they came directly from you.
It's so easy to do! To indicate you want an order Drop Shipped, simply change the delivery information to your customers name and address when placing the order, and we will handle the rest, it's that easy!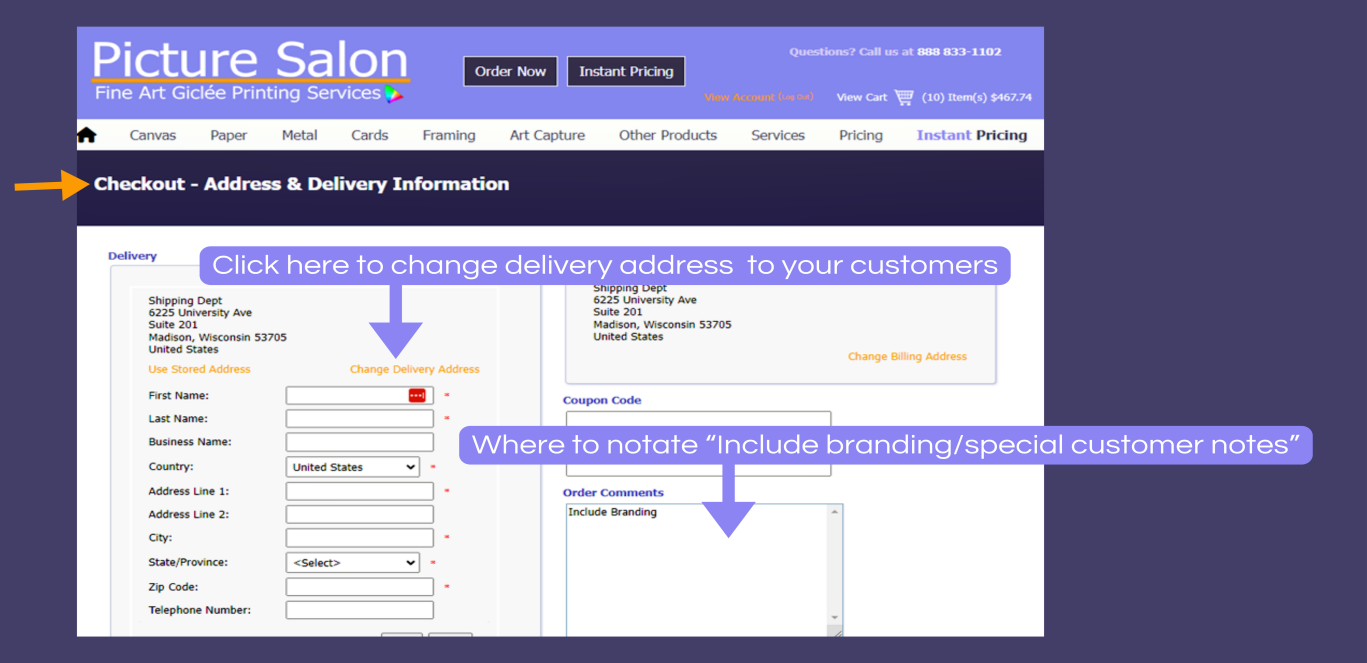 Branding: If you would like us to include promotional items in your drop shipping packages (business cards, stickers, postcards, COAs, etc.), simply send them in to us, and when placing your order, add a note saying "Please include branding". Please keep the branding items to 5"x7" and below, and remember that depending on the size / type of item ordered, it may go in a box or a tube, so the material should be somewhat flexible. If you would like us to include a custom COA you can email it in and we will print it on 24lb business paper & will include it with your order.
Benefits of Dropshipping:
Easy to start
Low start-up costs
Ability to offer more products
Don't need inventory on hand
Save time not having to ship products yourself
Get to focus on what you love, creating art!
Who can drop ship?
Anyone can drop ship with us! If you're selling a print & need it shipped directly to your customer we can do it.