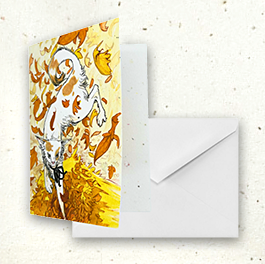 Hand Made Premium Seed Paper
Our Hand Made Premium Seed Paper greeting card measures 5" x 7" when folded, and has a textured surface on both the outside and inside. It has a luxurious thick feel with different seeds visible throughout the card. This cardstock is made by hand in small batches, they will be similar in appearance, but may vary slightly from card to card / order to order. These cards contain a wildflower seed mix.
Approximately 300 lb
Warm white
Germination rate: High ~ 75%
Select from borderless (full bleed) or ¼ inch border
Inside text available for $.15 per card

$7.99 (1 - 5)
$6.50 (6 - 20)
$5.70 (21 - 100)
$5.30 (101 - 499)
$4.95 (500+)
Volume discounts apply only to multiple cards of the same image and same size.
Hand Made Premium Seed Paper cards are printed with archival inks. Borderless (full bleed) options are available for this cardstock
A layout will be sent to you via email for approval before printing.

Artwork by Lyra Evans
Click to Print On This Card Stock